Dear Dr. Bernanke,
My name is Jesse Colombo and I am an independent financial analyst and investor who was called one of the "Ten People Who Predicted The Financial Meltdown" in 2008 by The Times of London when I was 22-years old. I received this recognition, along with economists Nouriel Roubini, Steven Roach and U.S. Congressman Ron Paul, because I warned millions of people of the U.S. housing and banking bubble on my website "Stock Market Crash!" (stock-market-crash.net) that I built in early 2004, when I was only 18-years old. In 2005, the LA Times recognized "Stock Market Crash!" as one of the most highly-trafficked housing bubble-related websites.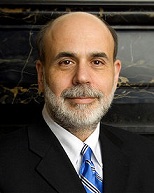 Dr. Bernanke, I am writing this letter because you, despite being 52-years old at the time and having a PhD. in economics from MIT, repeatedly denied the existence of the U.S. housing bubble that devastated our economy in an incalculable number of ways.
Here is what you said about the U.S. housing bubble in a July 2005 interview (source):
INTERVIEWER: Ben, there's been a lot of talk about a housing bubble, particularly, you know [inaudible] from all sorts of places. Can you give us your view as to whether or not there is a housing bubble out there?

BERNANKE: Well, unquestionably, housing prices are up quite a bit; I think it's important to note that fundamentals are also very strong. We've got a growing economy, jobs, incomes. We've got very low mortgage rates. We've got demographics supporting housing growth. We've got restricted supply in some places. So it's certainly understandable that prices would go up some. I don't know whether prices are exactly where they should be, but I think it's fair to say that much of what's happened is supported by the strength of the economy.
-and-
INTERVIEWER: Tell me, what is the worst-case scenario? Sir, we have so many economists coming on our air and saying, "Oh, this is a bubble, and it's going to burst, and this is going to be a real issue for the economy." Some say it could even cause a recession at some point. What is the worst-case scenario, if in fact we were to see prices come down substantially across the country?

BERNANKE: Well, I guess I don't buy your premise. It's a pretty unlikely possibility. We've never had a decline in house prices on a nationwide basis. So what I think is more likely is that house prices will slow, maybe stabilize: might slow consumption spending a bit. I don't think it's going to drive the economy too far from its full employment path, though.
Dr. Bernanke, while you were downplaying the risk of the housing bubble in 2005, I was frantically warning that it would cause an epic financial crisis. Here is what I wrote in early 2004 (archived source):
The United States, as a whole, is in debt by $32 trillion, of which the majority was added in the borrowing binge of the 1990s. The economy is so debt-ridden that we are now similar to a house of cards. It won't take much to topple this ever inflating housing bubble.

The housing bubble will start to deflate when interest rates rise. Furthermore, even a slight downturn in our already feeble economy will cause an increase in mortgage delinquencies as consumers buckle from their debts. Of course, when this happens, credit card defaults will also rise as will personal bankruptcies.
-and-
After the housing bubble pops, prices will likely plummet for at least a decade, unfortunately. Too pessimistic? Consider this: After the 1989 Japanese housing bubble, housing prices tanked for 13 straight years! The Japanese housing bubble was a similar situation to what we are currently experiencing.
-and-
From what we have seen, it is inevitable that we are in a housing bubble that will end in an economic crisis. The economy always finds a way to punish excess.
Dr. Bernanke, why was I able to foresee this crisis, while you, as a Governor of the Federal Reserve System, were not? Are you dumber than a 12th grader or were you just plain lying to the American public? Neither scenario is an enviable one.
It is finally time that you listened to the ideas of people outside of your "Power Elite" circle. I am now warning about new economic bubbles, including what I call "The Post-2009 Global Housing Bubble" (or "Housing Bubble 2.0″) and several others. These latest bubbles are going to cause a global economic crisis that will likely be even worse than the Global Financial Crisis.
At this stage, I realize that there is not much that you or the Federal Reserve can do to stop the popping of these global economic bubbles, but I only ask that you consider these ideas and be aware of the risks that the world faces.
Sincerely,
Jesse Colombo